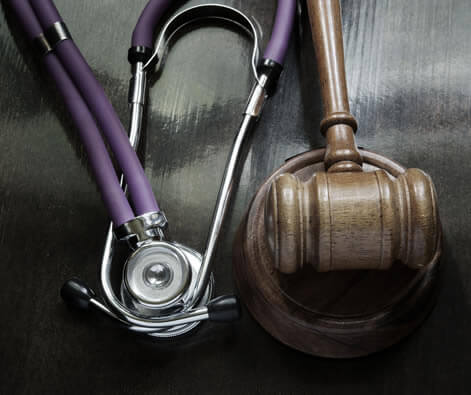 Injured By Medical Malpractice?
According to the Journal of Patient Safety, an estimated 400,000 patient deaths happen each year due to medical errors. If you were injured or if a loved one was injured or has died due to the negligence of a doctor, nurse, hospital or medical facility, then you deserve justice.
Filing a medical malpractice claim can be stressful; it's crucial to have an attorney who will fight for the compensation you deserve.

---
What is the Legal Definition of Medical Malpractice?
Medical malpractice occurs when a patient is injured or dies due to the negligent act or omission of treatment by a healthcare professional. The law ensures that all patients receive a standard level of care, but when medical professionals deviate from this standard, negligence may arise. In order for a medical malpractice case to have merit, a patient must be able to prove that she/he sustained significant damages such as a disability, emotional trauma or lost wages.
The 5 Elements of Medical Malpractice You Must Prove
You were owed a standard level of care.

A medical professional failed to provide you with the standard level of care.

Your injury occurred due to a direct breach of duty.

The medical professional was acting in contrast to the generally accepted standards of their profession.

Damage was caused due to the negligence of a medical professional.
---
---
Medical Malpractice Victim's Legal Rights
Medical mistakes can lead to serious, lifelong injuries. Our attorneys represent people who have been injured in many types of medical negligence cases, including those involving surgical errors, medication errors, nursing errors and healthcare facility malpractice.
Having a deliberately negligent physician is rare; in most cases healthcare professionals unknowingly commit medical errors. When a victim files a medical malpractice lawsuit they're bringing unintentional occurrences to the forefront, offering a teaching moment for other physicians. These physicians then analyze their own practices, learn from mistakes and work harder to promote patient safety.
Proving a medical error was caused by negligence can be complex. Victims who seek the legal guidance of a medical malpractice attorney often recover more in damages than those who attempt to represent themselves.
---
Why Use Ayuda de Lesiones?
If you were injured or if a loved one was injured or has died due to a medical malpractice incident, then you deserve justice. Our free case review service is ready to connect you to an attorney who best fits your needs and will fight to maximize the amount of compensation you receive.
There is no substitute for the advice of competent injury legal counsel and we've been in the business of connecting injury victims with top nationwide attorneys since 1999.
What to expect from our online service:
Always 100% FREE claim evaluations

Never an obligation to involve the lawyer you speak to - you decide if you want to proceed.

Your info is evaluated by the best attorney for your injury type
Frequently Asked Questions